INAUGURAL NATIONAL BOBBLEHEAD DAY HAS ARRIVED!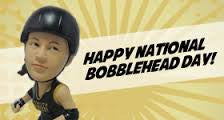 Today marks the inaugural National Bobblehead Day sponsored by the National Bobblehead Hall of Fame and Museum. The Registrar of the National Day calendar has designated January 7th of every year as National Bobblehead Day to celebrate all spring-connected head bobbing figurines, and many celebrations, giveaways and bobblehead-related announcements are planned from coast-to-coast.
"With our Kickstarter Campaign to create a Hall of Fame and Museum dedicated to everything bobblehead-related, it was a natural fit to sponsor National Bobblehead Day!" said Phil Sklar, Co-Founder and CEO of the National Bobblehead Hall of Fame and Museum. "We were surprised to learn that bobbleheads didn't already have a National Day of their own. With only nine days left in the Kickstarter, this is the perfect day to jump on board. Since Kickstarter is all-or-nothing, we really need the public's support to make the Hall of Fame and Museum a reality."
If the Kickstarter is successful, Kickstarter Backers will receive many benefits including the Gold Edition Founding Member Bobblehead which is individually numbered to 1,500. "We're excited to announce a great new benefit for all new and existing Kickstarter Backers and Members," said Brad Novak, Co-Founder and President. "All Kickstarter Backers at the $10 level and above and all Founding Members will have priority access to visit the Hall of Fame and Museum before it opens to the general public."
Teams across the country are being encouraged to celebrate National Bobblehead Day in creative ways in order to win what is sure to become the coveted Bobbly Award, which will go to the #BobbleDay Champions. The #BobbleDay Champions will also receive a fully sponsored bobblehead giveaway which will be awarded if the Kickstarter is funded by the January 16th deadline. Contest details can be found here.
The National Bobblehead Hall of Fame will be celebrating National Bobblehead Day with giveaways and announcements which include the following:
Topps Digital and National Bobblehead Hall of Fame partner to commemorate National Bobblehead Day
For a limited time, fans can collect a digital trading card set on the Topps BUNT app that honors bobbleheads and the National Bobblehead Hall of Fame. BUNT is available on iOs in the App Store and Android in the Google Play Store.
Aside from collecting the commemorative set, fans will also be able to win giveaways from the Hall of Fame, and collect digital bobbleheads. Giveaways include a Lifetime and Major Leaguer Memberships to the Hall, Hall of Fame t-shirts and bobbleheads.
phil.sklar(at)bobblehead(dot)com
Source: National Bobblehead Hall of Fame and Museum
---
---