MILL STREET BUSINESSES EXPERIENCE POSITIVE SALES LEADING UP TO CHRISTMAS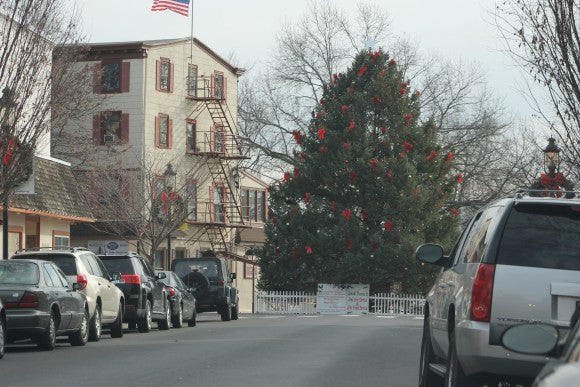 by Erich Martin 
Levittown Now
The small shops on Mill Street in Bristol Borough had a bustling Saturday.

This past Saturday is known as typically being the busiest shopping day of the year for large retailers. Several of the smaller retailers in Bristol's central business district reported increased sales, too.
"It's been awesome. We had tons of people bring their kids and pets to see Santa," said Cathy DiAntonio, who was manning Spunky Candles.
According to DiAntonio, the handmade craft shop sold tons of gifts. The store's sales were buoyed by a number of families coming to get their pictures taken with Santa, who was a special visitor at the store.
Although Spunky Candles is new on Mill Street, staples of the street also had strong days.
"It's been great. It's been very busy and very fun," Rosemarie Mignoni-Szczucki, co-owner of Mignoni Jewelry, said.
In addition to the huge influx of customers, the jewelry shop also played host to a harpist who played for a portion of the day. The music greeted shoppers who looked for Christmas gifts in the store that has been a staple in Bristol for decades.
Trainpop's Attic has been busier on average this season than in previous years.
"Business has been really good. I think the promotions we have done over the past year have definitely helped us," Brian Adams, owner of the store, said. "I'm very happy, very impressed with the business we have had throughout this year."
Even stores that don't have retail as a traditionally large portion of sales have seen an increase as Christmas got closer.
Calm Waters Coffee Roasters  Owner Andrew Dittman said business has picked up as Christmas has gotten closer. The hip new coffee shop sells bags of coffee beans, in addition to store merchandise, grinders, hot brews and more.
"We've been having a hard time keeping them [bags of coffee beans] on the shelves," Dittman said. In addition to the regular sized bags they sell, Calm Waters  Coffee Roasters  has started offering small stocking sized bags for the holidays. "It's been really really good retail for us," Dittman said.
Not every store had a higher than usual turnout for one of the last major shopping days of the year.
Bucks County Baseball Cards' owner Jim Lutz explained that the day was a little slow.
"We're just trying to keep up with the big guys," Lutz said, explaining all of the promotions and special events the store is adding and planning for the future. Although the physical sales were slow for the staple sports collectibles store, the store's online business is going strong, Lutz said.
A homegrown promotional effort has helped grow Mill Street, which was once a major shopping destination before the Oxford Valley Mall. Along with the efforts of shop owners, the Bristol Borough Business Association and Bristol Borough: Raising the Bar, the historic borough has been part of a regional effort by Visit Philly and Visit Bucks County to showcase all the community has to offer.
Lutz and other store owners all echoed one similar theme: more Mill Street success stories will only help all of the businesses on the street.
For more information, click here
---
---