PETE ROSE VOTED INTO BOBBLEHEAD HALL OF FAME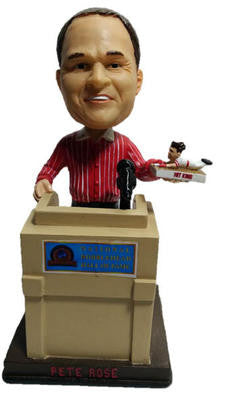 Pete Rose has been elected to the Hall of Fame, or at least his head has been.
Baseball's all-time hits leader will be immortalized in artist-renditioned resin April 23, when he -- well, his bobblehead -- will become the first inductee into the National Bobblehead Hall of Fame and Museum in Milwaukee.
   
"Being the only of anything is a big deal," Rose said of being inducted into the hall, which opened this year. 

Rose collected more bobblehead hall votes (4,657) online during the last year than he collected hits (4,256) during a career that spanned 24 seasons.
He agreed to a permanent ban from major league baseball in 1989 by then-commissioner Bart Giamatti for gambling on the sport. Rose was denied reinstatement in 2015 by commissioner Rob Manfred.

According to an email release sent by hall co-founder and CEO Phil Sklar, Rose will speak at a ceremony, which will "highlight Pete's bobbleheads and illustrious career."
Fans in attendance at the induction ceremony will receive a Rose bobblehead, which will be limited in production, and will have an opportunity to meet Rose after the ceremony. 

For more information on the National Bobblehead Hall of Fame, visit http://www.bobbleheadhall.com/
---
---