Bucks County retailers credit Eagles wins for sustained wave of sales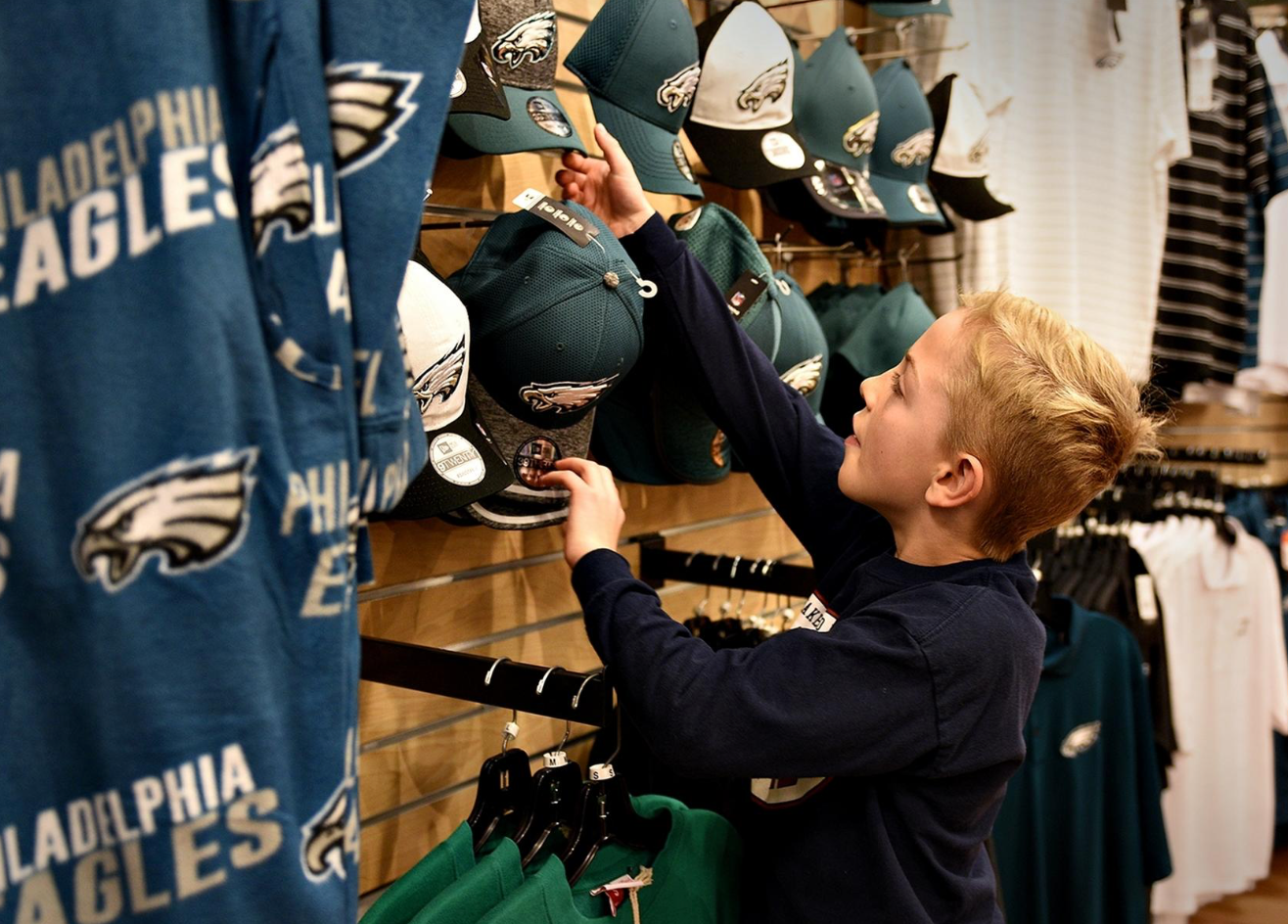 The Philadelphia Eagles are having a good year – a really good year – and it's proven to be a boon for retailers.
With another huge win Saturday and the NFC Championship crown in reach, Eagles fever is in full effect in retail stores across Bucks County.
T-shirts, flags, bobbleheads, dog toys — you name it, it's all flying off the shelves as the team's high-performing year on the field boosts sales of all things Philadelphia football.
"If it has an Eagles logo on it, people want it," Dynasty Sports shop owner James Williams said Monday.
His store in the Oxford Valley Mall has been riding a growing wave of excitement about the team all season long, he said, but the trend has been strengthening in the last few weeks. And with Super Bowl prospects hinging on an ever-shrinking number of wins, some customers are starting to view purchases of memorabilia and autographed gear more as investments than simply possessions.
A day ahead of an in-store signing event with Eagles wide receiver Nelson Agholor, Dynasty Sports had Eagles apparel proudly displayed in the front of the store — or at least what was left of it. Stocks of shirts and jerseys require constant replenishment, Williams said, and winter wear is long gone.
In fact, every business reached Monday reported rapidly dwindling or long-depleted stocks of Eagles cold-weather gear.
JP Lutz, owner of Bucks County Baseball Co. in Bristol Borough, said that tells him fans aren't just watching from home, but regularly making the Sunday pilgrimage to Lincoln Financial Field.
His store, a primarily internet-based shop with a location on Mill Street that sports limited hours, just recorded its best November and December in its four-year existence, Lutz said. He attributes the success in large part to excitement about the Eagles.
"This was the first time we've been on this side of the mountain, so to speak, where winning on the field translates to increased interest in the team and increased business in our store," he said.
Specializing in vintage sports apparel and collectibles, Lutz said Bucks County Baseball Co. has seen heightened sales of bobblehead figures, or as Lutz called them in an interview, "sort of the new baseball card."
Catering to the minor craze, Lutz said the store hosts bobblehead exchanges and, in an effort to drive business, runs the odd special deal on bobblehead purchases.
The most popular figure? Carson Wentz.
Even though he hasn't played in more than a month, after a heartbreaking ACL tear sidelined him until next season, every store contacted said sales of the injured star quarterback's items refuse to slow down.
"It feels like it's still Carson's team," said Williams at Dynasty Sports. "I've never seen it where a player goes down and people are still buying his stuff."
Jenn Jones, store manager at Rally House in Falls, said that's just Philly pride at work.
We can't keep anything with Wentz on it. Even with his injury people are still super loyal," she said.
Despite having an extensive selection of Eagles items for sale, Jones said Monday that stores of Eagles merchandise were as meager as they'd been all season — a claim confirmed upon closer inspection.
While sections of the store devoted to Philadelphia's other sports franchises boasted packed shelves, Eagles-branded clothing, glassware and home décor all appeared in short supply. The number of dogs' chew toys for sale was similarly diminished, as even pets hop on the Eagles bandwagon.
Not so for Rally House shopper Amanda D'Amico.
Whether the Birds are up or down, the Yardley woman said her fourth-grade classroom is always decked out in Eagles style.
And on Monday afternoon, so was she.
D'Amico was browsing the Eagles section with an Eagles bag in tow and an Eagles knit hat on her head.
Apparently the Linc is among the few places left to find winter gear emblazoned with team's logo, because she said she just bought it at Saturday's nailbiter against the Atlanta Falcons.
The best part had to be the last two minutes, just to be able to be there and see them win," she said.
The elementary school teacher said she'll be back in South Philadelphia cheering on the Birds again this weekend.
But before she does, maybe she should stop at Monkey's Uncle in Doylestown Borough.
Co-owner Derrick Morgan said his shop on East State Street has sold a ton of Eagles clothing this season, quite often to customers ahead of an upcoming game who don't want to repeat their outfit from the last one.
Not explicitly a sports store, Monkey's Uncle sells vintage-inspired apparel often with designs created by local artists and purchased through local distributors. That means when the store sells out, Morgan said, he can re-up fast.
And with every Eagles win comes another spike prompting shipment of new items.
"Fans are coming in literally every week because they're looking for the newest thing," he said.
The store's biggest sellers of late include the "winning is for the birds" design popularized by actor and Delaware Valley-native Bradley Cooper; a black sweatshirt that reads "Philly vs. everybody" and, of course, a shirt featuring Carson Wentz.
But it's not your typical name and number shirt, said Morgan. Rather, the shirt shows Wentz, in full game-day gear, celebrating atop the Rocky steps outside the Philadelphia Museum of Art.
Nothing better encapsulates Philadelphia, nor the Eagles' meteoric season, Morgan said.
"It's kind of the thing where you know every game is do or die," he said. "We're the ultimate underdogs."
Speaking of underdogs — even the Halloween mask sported at the end of Saturday's game by Chris Long and Lane Johnson is in hot demand, catapulting to a No. 1 spot on Amazon.
---
---