FLYERS LEGEND, GARY DORNHOEFER APPEARANCE & SIGNING ON JULY 16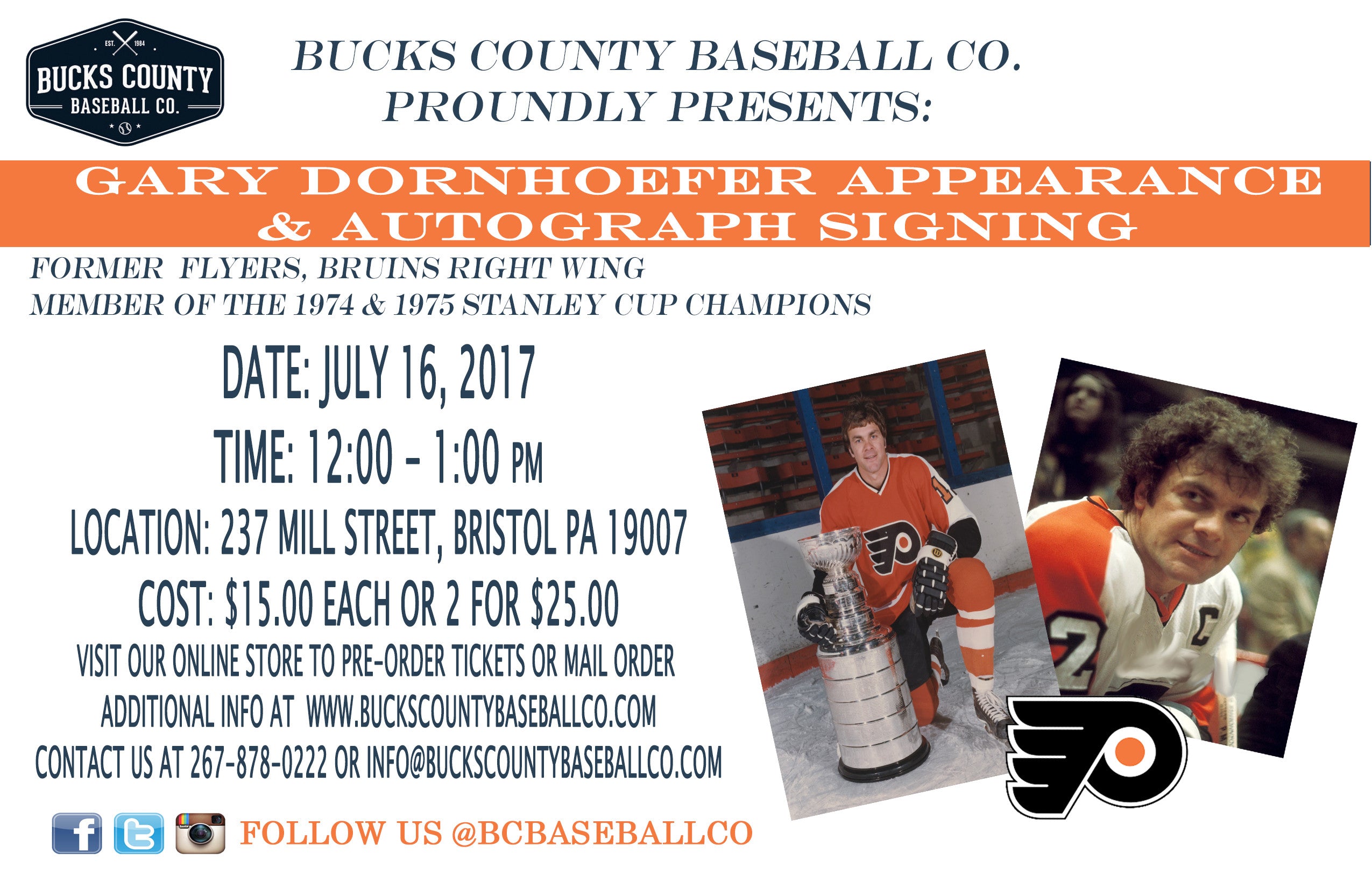 Bucks County Baseball Co is proud to announce the appearance and autograph signing of Flyers Legend, Gary Dornhoefer on July 16, 2017 from 12:00pm - 1:00pm. This could be one of Dornhoefer's last public appearances in the tri-state area. 
Tickets are $15.00 each or 2 for $25.00 and includes all inscriptions and photo opportunities. Pre-order tickets and mail order options are available by clicking here
All mail order items must be received by July 14 and can be mailed to Bucks County Baseball Co, PO Box 1243, Bristol PA 19007. 
Gary Dornhoefer is a former Flyers and Bruins Right Wing. He is a member of the 1974 & 1975 Flyers "Broad Street Bullies" Stanley Cup Champions. After his retirement following the 1977–1978 season, Dornhoefer moved to broadcasting. He worked a short time in Philadelphia locally, then moved back to his native Ontario, Canada  to work on Hockey Night In Canada as a color commentator from 1978 – 1987. After a six-year hiatus from broadcasting, Dornhoefer moved back to Philadelphia in 1992 and joined the Flyers broadcast team, originally working with play-by-play man Gene Hart. He served as a Flyers' color analyst  through the 2005-06 NHL season. 
Please click here to visit our events page. If you have any questions, please call us at 267-878-0222 or email us at info@buckscountybaseballco.com
Bucks County Baseball Co. is located at 237 Mill Street, Bristol PA 19007
---
---