"History of Philly Sports" Book Signing on May 14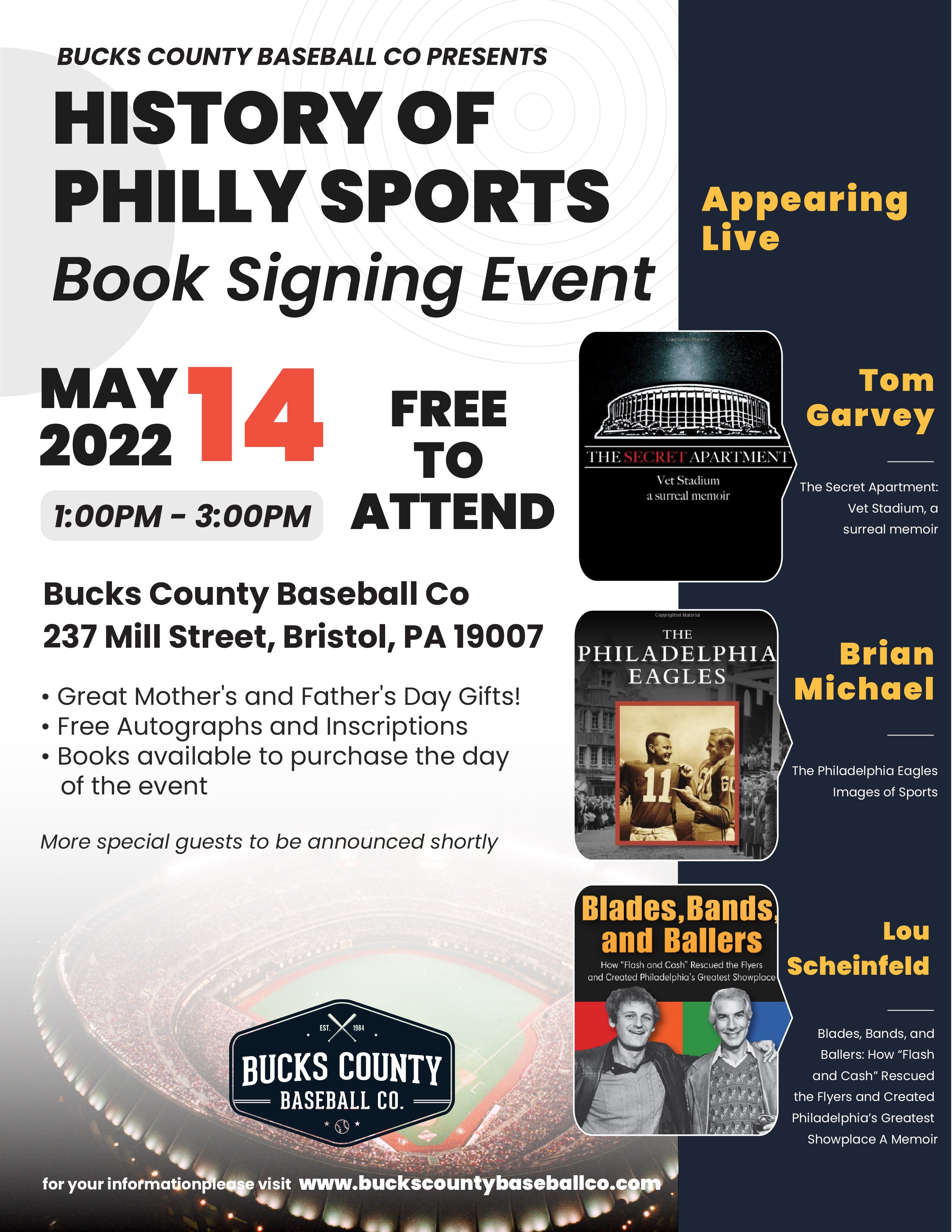 Bucks County Baseball Co is excited to host the "History of Philly Sports" book signing on Saturday, May 14th from 1:00pm - 3:00pm.
The following authors will be in attendance to sign your books. This is a free event and copies of the books will be available to purchase the day of the event.
Tom Garvey - The Secret Apartment: Vet Stadium, a surreal memoir
In his new book, The Secret Apartment: Vet Stadium, a surreal memoir, Garvey details how from 1979 to 1981 he lived in an empty concession stand inside the Vet which he secretly refurbished into an apartment in his very own "off-the-wall South Philly version of the Phantom of the Opera."
Lou Scheinfeld - Blades, Bands and Ballers: How "Flash and Cash" Rescued the Flyers and Created Philadelphia's Greatest Showplace
Blades, Bands, and Ballers is Lou Scheinfeld's heartfelt memoir of an America now gone, a world of local spectacle and national pride. Dubbed "America's Showplace" between its birth in 1967 and much-lamented death in 2009, the Spectrum has one last story to tell: how it came to be, how it really was, and how it ended. Lou Scheinfeld is the one man standing capable of telling inside stories of Ed Snider and his blood feud with Jerry Wolman, Frank Rizzo and the Rolling Stones, Kate Smith and her Broad Street Bullies, Sinatra and the Philly Mob, Dr. J and the 76ers, Electric Factory's emergence, Elvis' sad appearance, Joe Frazier's lament and more. It's a true story of a time gone by.
Brian Michael - The Philadelphia Eagles: Imagines of Sports
The history of the Philadelphia Eagles spans multiple championships, many more near misses, and a cast of characters both on and off the field. The passion of the game has flowed through the veins of generations of Philadelphians, and this book details the history of the Eagles from a unique fan perspective. Compiled from more than two dozen sources, The Philadelphia Eagles features rarely seen archival and personal photographs, including ones from Pete Pihos, Vince Papale, Upton Bell, Ed Mahan, and fans across the Delaware Valley. Brian Michael is a college professor whose love for sports history led him to open Shibe Vintage Sports in Center City Philadelphia. Andrew Palagruto was born and raised in South Philadelphia near the sports complex and is Philly fandom personified. Andrew Weicker operates several digital properties related to Philadelphia sports from his fan cave in Northeast Philadelphia.
Please click here to visit our events page. If you have any questions, please call us at 267-878-0222 or email us at info@buckscountybaseballco.com
Bucks County Baseball Co. is located at 237 Mill Street, Bristol PA 19007
---
---