Hollis Thomas Appearance at BCBC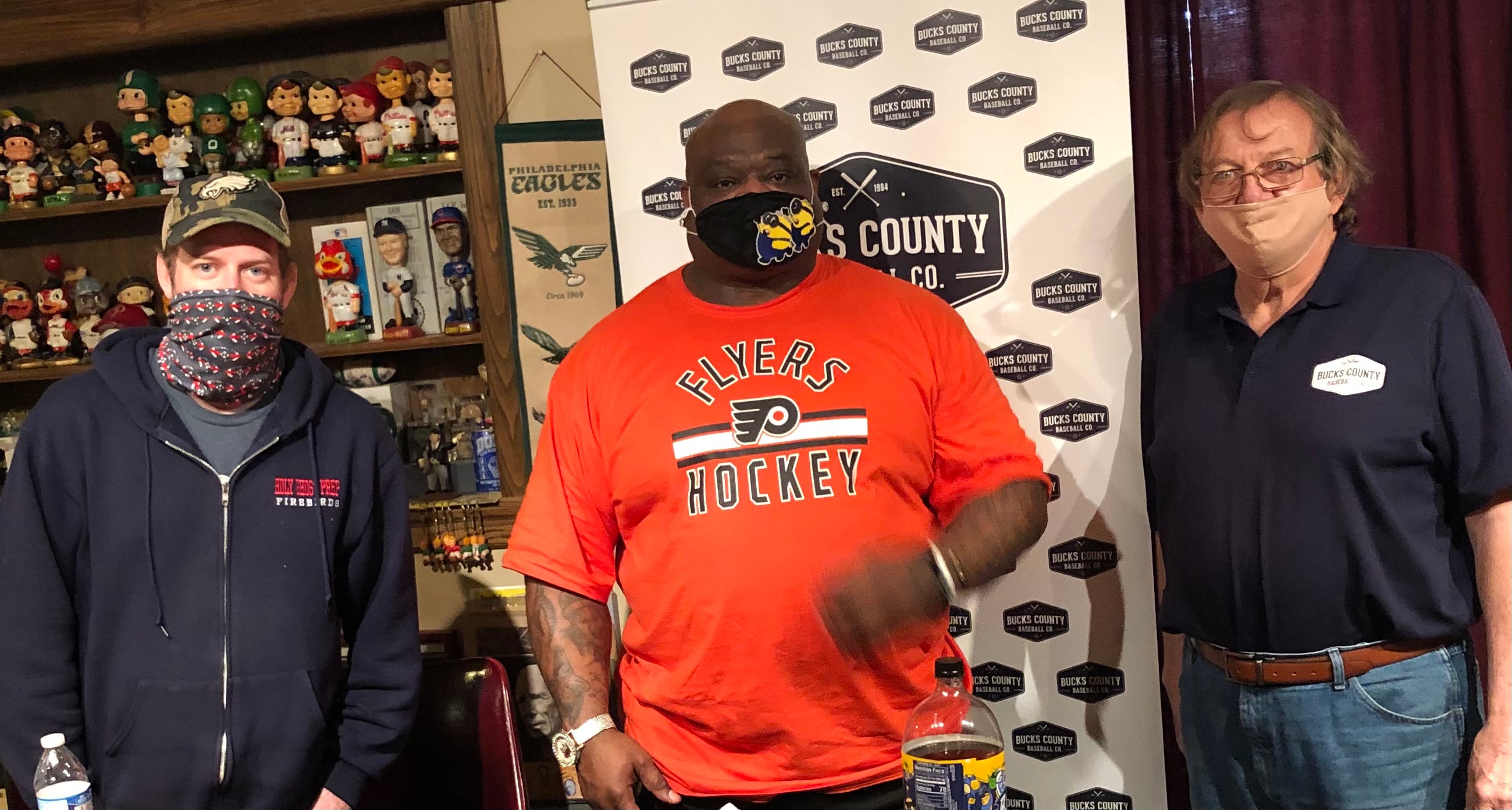 Bucks County Baseball Co. welcomed former Defensive Tackle of the Philadelphia Eagles, Hollis Thomas, to come and meet our customers during Small Business Saturday. He had engaged in a lot of great conversation with the customers and gave everyone a great time. Thomas was born in Abilene, Texas, on January 10th, 1974. He was an undrafted free agent from Northern Illinois University and was drafted by Philadelphia. Hollis played a total of fourteen seasons for the NFL. 
The Eagles were the first of three NFL teams that Thomas played for. Thomas played in Philadelphia for ten seasons from 1996-2005. Then he transitioned from the NFC East and played for two teams from the NFC South. He played for the New Orleans Saints from 2006-2008 and then for the Carolina Panthers for his final season in 2009. During his NFL years, he made some amazing athletic
accomplishments, such as 20 Quarterback sacks. Something that Thomas did after he played for the Eagles was work for the Arena Football Team: The Philadelphia Soul. He served as their Defensive Line Coach for a season. After retiring, he would then co-host sports radio channel 94.1 WIP. At the same time, he would talk for a podcast series called Green Legion and still participates in the Green Legion.
Hollis Thomas said that his favorite part of being on the team was being able to "come out and dominate every week." He also said he enjoyed the games that he played and the people would pick against. He loved giving them a run for their money.
Thomas shared two of the favorite moments in his career. The first was back on January 23, 2005 when the Eagles won the NFC Championship game over the Atlanta Falcons with a 27-10 score. That win got them to the Super Bowl and Thomas still feels amazed by wining. The second moment was on September 25, 2006, during his first season playing for the New Orleans Saints. The team returned to the Louisiana Superdome after it was damaged by Hurricane Katrina in the summer of 2005. They won that game 23-3.
Thomas's favorite game of all happened during his first season with the Eagles in 1996. On November 3, 1996 they took on the Dallas Cowboys and won 31-21. What made this game   exciting to Thomas was the moment that the Birds beat the Super Bowl Champions. Thomas remembers a memorable after game experience: "We came back in the game and an entourage was waiting for us in the Airport." 
One important lesson Thomas has learned in his fourteen season playing in the NFL was that "Football is a business."  For example, you should stay positive even if you are not paid well.. He also believes that it is vital to honor the system. We were so happy to have Thomas visit our store and interact with our customers. It was truly a memorable day!  Lastly, here, is an inspirational quote from Thomas about playing the game: "I never looked up to a player for inspiration. I just enjoyed playing the game."
---
---