Larry Andersen "Just LA" Appearance & Fundraiser on April 15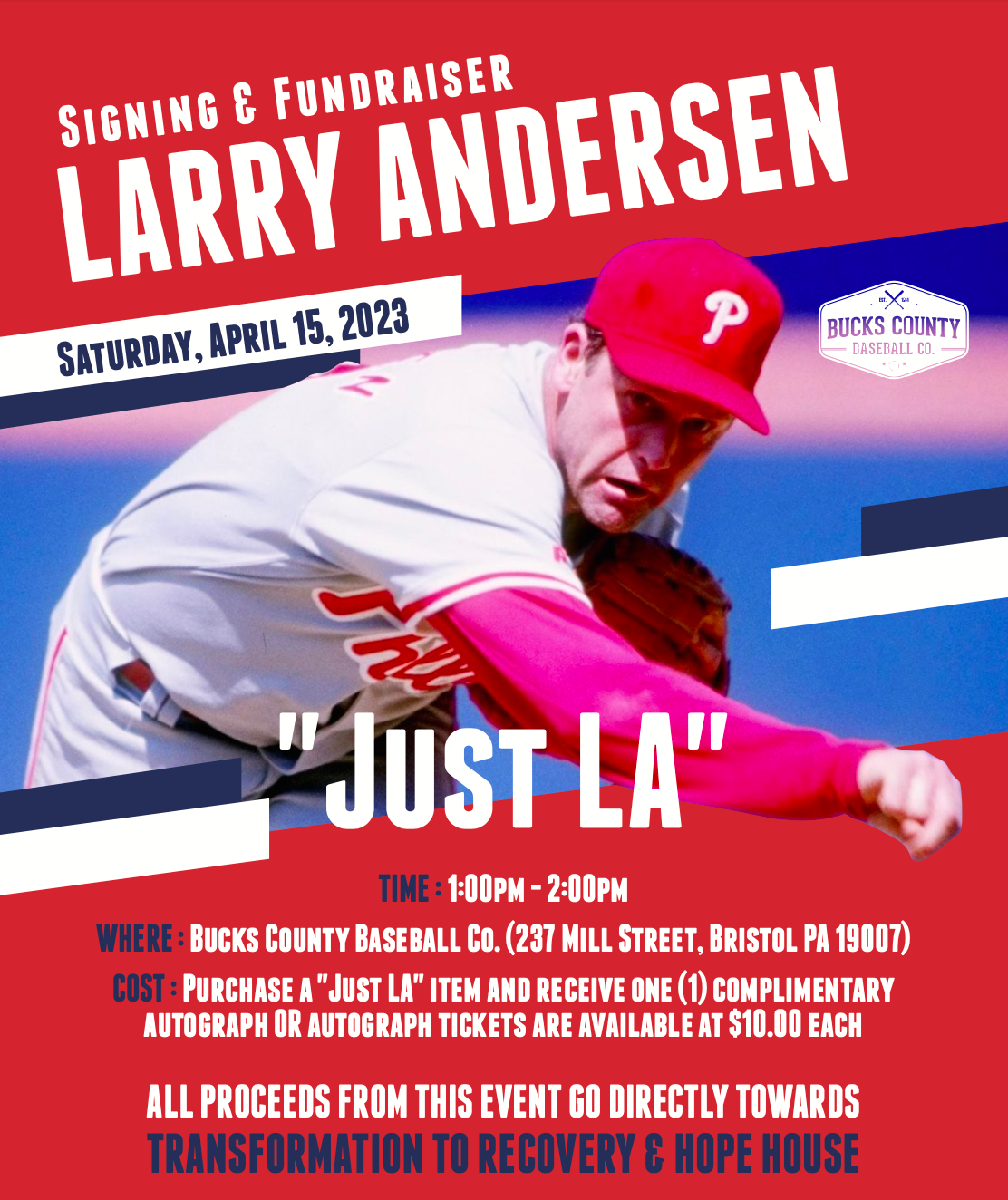 Bucks County Baseball Co. is excited to announce a special appearance and signing with Phillies Broadcaster and former player, Larry Andersen on Saturday, April 15, 2023 from 1:00pm - 2:00pm.
This appearance is part of a fundraising campaign that Bucks County Baseball Co. is partnering with LA for the Hope House and Transformation to Recovery (TTR) of the Christ Church in South Philadelphia. 
There are two ways to support this great cause: 
1. Purchase a "Just LA" hat during the day of the event and receive a complimentary autograph (one per item) 
2. Individual autograph tickets are available for $10.00 each
All proceeds from this event go directly to the Hope House & TTR
Larry Andersen is a former relief pitcher and current radio commentator for the Philadelphia Phillies.  Larry was the only Phillies player to play in both the 1983 and 1993 World Series.
TTR was formed in 2018 as a ministry was to decrease the growing opioid epidemic that was rising in Philadelphia.  TTR provides a large number of services to those affected in the community. They could be an organization, family, or an individual. This all started from a meeting in a living room and turned into a recovery community center. One hundred men and women are served and helped every week through TTR.
The Hope House is a part of TTR that houses ten men and serves as a recovery house  discipleship program. This house is also located in South Philly. Men have used this house to undergo sobriety, become better disciples of Christ, and achieve the skills in order to have a successful transition back into society.  All proceeds with the hats and shirts at LA will go to support both TTR and the Hope House.
Click Here for additional information on this event
Click Here for additional information on the Hope House & TTR
---
---