Local Retailers Enjoying Eagles' Road To Super Bowl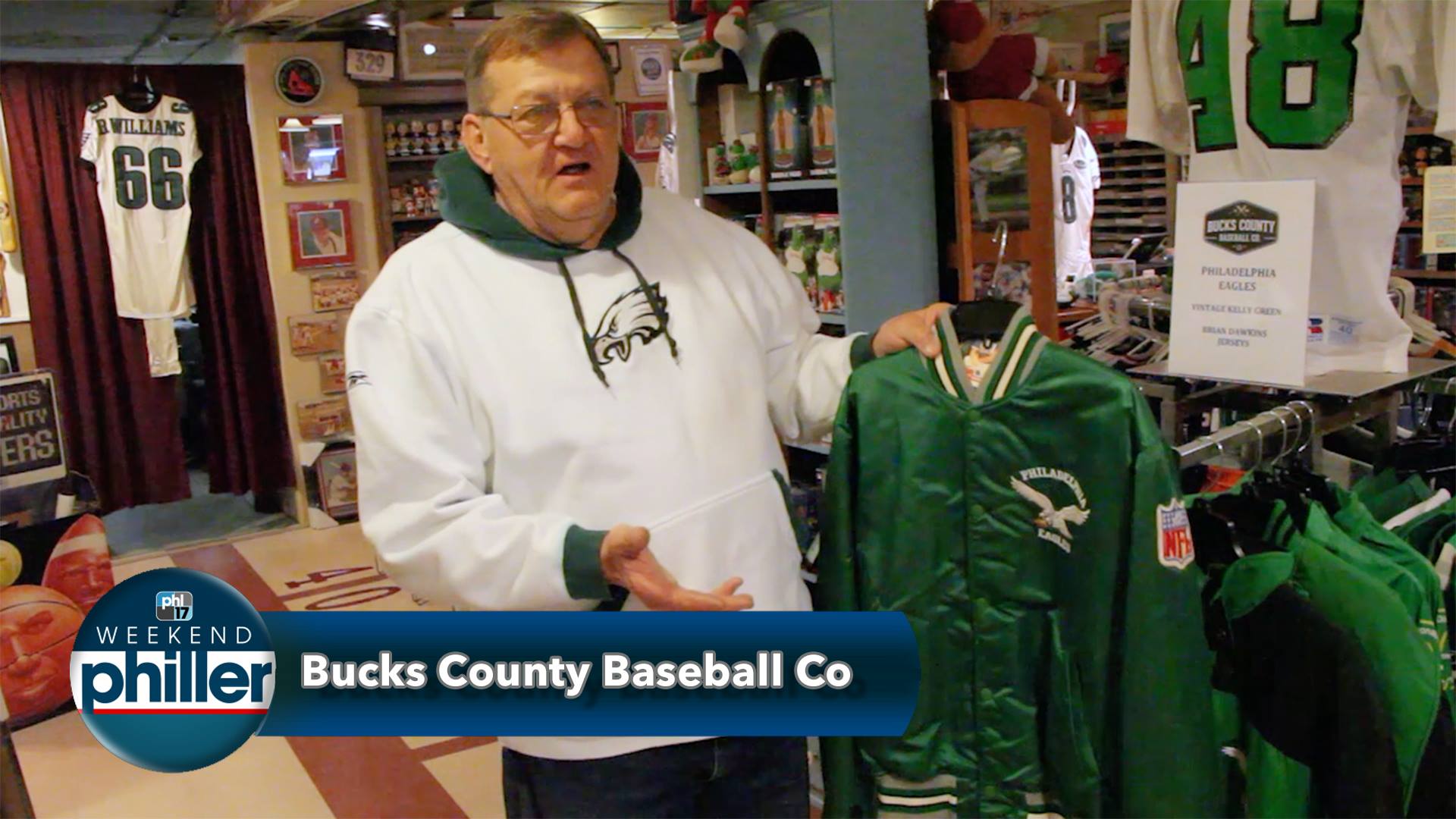 Levittown Now: February 2, 2018
By Erich Martin
The most important part of a Super Bowl season for fans of the local team – aside from the actual games, of course – is making sure that customers are decked out in the appropriate attire to support their team.
As the Super Bowl approaches, Levittown-area retailers are dealing with that demand and high spirits.
Collector shops, like Bucks County Baseball Co. on Mill Street in Bristol Borough, are seeing huge influxes of customers as people are looking for gear for the upcoming game.
"It's been an awesome sort of experience so far," said JP Lutz, the co-owner of Bucks County Baseball Co.
While the business generally specializes in vintage merchandise, they have received and will continue to receive merchandise for the duration of the Philadelphia Eagles' playoff run.
The playoff run has provided a boom during a time of year where there is usually a business slump, according to Lutz. Typically, January is a slow month as people recover from the holiday shopping season. This year, the Eagles season has bolstered sales and kept the wave of good feelings going.
"We know that winning affects everything," Lutz explained.
In Bristol, Lutz and his father and store co-owner, Jim Lutz, are both huge Eagles fans. Seeing the Birds do well as well as an increase in store traffic is a dual boon.
"We have people who come in and just want to talk about the team," Lutz went on. the difference between local stores like the Lutz's and big box stores is the management's ability to connect with individual customers, Lutz said.
At Dynasty Sports and Framing in Middletown's Oxford Valley Mall, owner James Williams said business has been doing well thanks to the Eagles post-season run.
"It's been an absolutely incredible run," he said.
Dynasty Sports is different from other local sports shops in that the store regularly host athlete meet and greets where fans can get items signed. Recently, Eagles running back LeGarrette Blount drew a large number of fans to the store.
"It's just a really unique experience for fans," Williams said.
The situation has not appeared to be any different at chain sports merchandise retailers Rally House and Dick's Sporting Goods in Falls Township. Both stores have remained busy at the Eagles' Super Bowl battle against the New England Patriots gets closer. Customers have flocked to pick up Eagles merchandise.
The performance by the Eagles seems to have drawn the whole region together, Lutz and Williams said.
"It's amazing to see people get this excited over their home team," said Lutz.
"It just seems like the whole city has come together to enjoy this ride," Williams said. "Everyone just seems to be really on board."
---
---