Small Businesses Play a BIG Role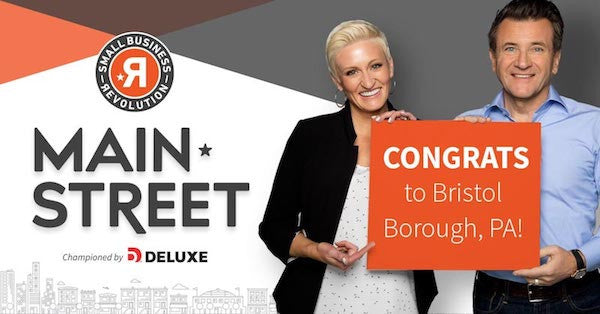 by Cate Murway

Historic Bristol on the Delaware is clearly recognized as a leading place to live, learn, do business, and raise a family and the First Friday events further showcase the Borough's assets and continue to pave the way for this small town's community vibrancy!
The quaint, historic riverfront town of Bristol Borough is hosting First Friday events starting this Friday May 5th through September 1st from 5:00 to 8:00PM on Mill Street, making an ideal FUN start to the weekend. The early evening, authentic old-fashioned community street party will be comprised of more than 100 exhibitors, providing an eclectic marketplace of hand-made creations, crafts, prepared foods, food trucks, snacks and cold drinks, and even fresh produce, bringing an extra shot of adrenaline to an all-ages crowd-pleaser. 
This May 'First Friday' coincides with National Small Business Week 2017, the official celebration of the Main Street entrepreneur that has run from April 30th through Saturday May 6th. It's a positive reminder to renew a commitment to foster the entrepreneurial spirit that is central to the American experience. Entrepreneurs, startups, and small businesses bring new ideas, tools, technology, and jobs to Pennsylvania, creating opportunities throughout our state. This is the 52nd year in a row that the President of the United States has issued a proclamation announcing National Small Business Week, recognizing these critical contributions of America's entrepreneurs and small business owners and highlighting the impact of these outstanding individuals who contribute to our economic diversity and the strength of local economies. According to the U.S. Small Business Administration (SBA), small businesses represent 99.7 percent of all employer firms. The importance of small business remains one of this country's immovable bedrocks but small businesses do not always remain small. Large corporations, such as 'Nike' and 'Ben and Jerry's', started off as small businesses that grew to become major players in the national and international marketplace.
America is an entrepreneurial country. The spirit of entrepreneurship is deeply engrained in our culture, and small business owners are the men and women who take their ideas and bring them to life. The town's artistry will spill out onto the sidewalks on First Fridays. These street fairs started as a small community event but have grown quite substantially because people actually have fun. The locally owned one-of-a-kind businesses in Historic Bristol on the Delaware build strong communities by sustaining its vibrant, compact, walk-able town center with a truly distinctive character.
Every once and awhile, you stumble upon a town, [Bristol Borough won the Deluxe Corporation's "Small Business Revolution – Main Street" contest], that's gotten everything right—a great location, food with character, and shop owners with purpose and so many are also 2017 Bucks Happening List®winners.

Put on your walking shoes and take a saunter down Bristol's memory lane swathe and relive those sweet reminiscences of the good old days, enjoying the quirky signs and savor some of the freshly roasted and brewed Calm Waters coffee, clearly not made from a trucked-in mix. Stop in and see what special concoction they are offering that evening. It's ALWAYS coffee o'clock!
Next, everyone will find Mignoni's Jewelry & Gifts a genuine GEM of a place. Céad Míle Fàilte! [Irish Gaelic ~ 'A Hundred Thousand Welcomes']. When you come in and visit with the Mignoni sisters, you visit their family and their friends and their family. Stop in, sit a spell and share a cup of freshly brewed Irish Tea and homemade cookies. They'll keep the light on for you! 
Cross the street! Spice & Co. is located in a revitalized old brick building with a high-quality façade and charming interior restoration that was once home to the town's Business Association, "J. W. Clark's Jewelry" and a restaurant. The oldest or one of the oldest buildings on Mill Street that was established in 1799 is now "the real deal" once again, a magical place full of treasures, firm handshakes, and American-made stuff.
This old Victorian shop has evolved into a single gleaming immensity of fancy goods. Co-owners, Mycle Gorman and Ron McGuckin affix their stamp of excellence on everything they touch!  Keep going….you'll be on the right TRACK. Model trains tend to bring out the kid in all of us… it's the lure of the locomotive! Proprietor Brian Adams and Cynthia Adams of Trainpops Attic, LLC are GIFTING a stylish child's denim blue and white striped railroad engineer hat with any purchase from their spacious train store, eclectic gift shoppe or their aLURE-ing "Bait & Tackle" spot. A local Bristol photographer's impressive imagery beverage coasters command a STOP amid other local entrepreneurs' remarkable artistic creations, select Bristol items, and hand crafted gifts. 
Once upon a time, every small town had at least one sports cards store; now, they are practically an endangered species. But fortunately for 19007, it is the home of an ultimate collector's dream. Bucks County Baseball Co. does not merely house beautifully printed and presented cards featuring a retired triumvirate of all-stars from baseball's gilded ages, this family-owned shop features a vast array of collectible sports items. A treasure trove of Phillies memorabilia will command the First Friday sidewalk table. Mention this "Spotlight" article and receive 15% off any purchase.
Steve Corleto, the proprietor of 'Steve's Tees Awards and DeSigns' and 'Barking Spyder Board Shop' will offer a special quality short sleeve pocket tee-shirt for sale to pull together funds with the goal of helping to rebuild a safe and challenging Middletown Township Skatepark. 
Skateboarding is a way to have fun with friends and get creative physical activity. Public skateparks have had resurgence throughout the USA since there are an estimated 13 million skateboarders. 
Proprietor of t.s. Cornerstones, Tina Fricano does her very best to assure that everyone curls up with a book for a while. Check out the 40% off items, including the special sales on the discounted Book Table, selected jewelry throughout the shoppe, and fashionable "readers/magnifiers". Who doesn't always need those handy? 
Part of the 'keeping it local' appeal is that the owner/merchants offer a less frenzied venue and a smile…. always a smile! The town still lays out the ol' welcome mat. The gorgeous waterfront Bristol Lion's Park, complete with an elegant Victorian style gazebo reminiscent of graceful living from another time, inviting park benches, ethnic memorial monuments and unequaled views of the Delaware River, will beckon all who attend. This hidden treasure is dazzling and exudes a just right breath of vitality for those taking advantage of a leisurely stress relieving sunset stroll.
Historic Bristol on the Delaware is a prime small town ambiance location so near to the SEPTA regional rail line, within two miles of I-95 and the PA Turnpike, less than a mile from PA Route 13, and mere minutes from Philadelphia and Trenton. It's quaint and unhurried, much less hectic than neighboring towns and it boasts a distinct charm of its own.
Welcome Friend….. You'll want to stay! There's ample free parking in the Mill Street Parking Lot.
---
---